Summary: With custom, high-end consultation obtained through a relatively small (~$2,250,000) acquisition of Veritas (our commoditized, tradeable intellectual capital), Veritaseum Digital Swaps can allow Goldman Sachs, JP Morgan Chase, and Morgan Stanley to maintain thier share buyback/dividend aspirations and still pass the Federal Reserves stress test requirements.
We have finally issued our own tradeable digital asset. It is much, much different from anything currently available on the market, and arguably materially more valuable. For those not familiar with our new offering, please see Veritas Pre-sale: Intellectual Capital Abstracted Into a Blockchain Tradeable Asset With True Intrinsic Value
.
I'm sure there are a lot of you wondering exactly what tradeable, Intellectual Capital is. Well, Wall Street has made an entire industry of hoarding and controlling the commodity known as financial capital - basically, the life blood of business. Yet, financial capital is useless without being properly wielded. Consulting firms such as Accenture (Revenues of $30.0 billion, clients in more than 200 cities, 56 countries including 91 of the Fortune Global 100 and more than 3/4th of the Fortune Global 500) and McKinsey & Co. (80% of the world's largest corporations are clients) make a lot of money selling "bespoke" consulting services which can be seen as intellectual capital for hire, but it is expensive (hence the high incomes of the consultants) and extremely unwieldy and inefficient for all but the largest of engagements.
What we have done was to take "capability", essentially intellectual capital in action, and packaged it as a digital commodity that can be traded on an exchange, bought and sold, and redeemed for services rendered. In essence, we've digitized and commoditized the management "intelligence" that these companies sell for well over $40 billion per year and have it on offer for sale, trade and exchange. This article represents a user case of the venerable Goldman Sachs and JP Morgan and their hypothetical use of Veritas.
From Fool.com's Why Goldman Sachs (and 2 Other Wall Street Banks) Nearly Failed This Year's Stress Test
In its most severe scenario this year, the Fed assumed that unemployment would spike to 10%, stocks would fall by 60%, interest rates would stay low, and housing values would decline by 25%. On top of this, the Fed applied a special test to the six financial firms with the largest trading operations -- namely, JPMorgan Chase, Bank of America, Citigroup, Wells Fargo, Goldman Sachs, and Morgan Stanley.
The primary consequence of the general scenario was large loan losses. According to the Fed's projections, Wells Fargo would have to write off an estimated $56.4 billion in loan losses (or, more specifically, loan loss provisions), JPMorgan Chase's tab came to $55.5 billion, Citigroup's to $50.3 billion, and so on.
The fallout of the trading-specific scenario was large trading and counterparty losses. And it was here where JPMorgan Chase, Goldman Sachs, and Morgan Stanley appear to have run into problems, as the Fed estimated that the three firms would lose an additional $56 billion combined.
The added losses from trading, coupled with the firms' original dividend and share buyback requests, caused certain capital ratios at the three banks to fall below the regulatory minimum at the nadir of the Fed's severely adverse economic scenario. As the central bank explained:
In the supervisory severely adverse scenario, three [bank holding companies] -- Goldman Sachs, JPMorgan Chase, and Morgan Stanley -- were projected to have at least one minimum post-stress capital ratio lower than regulatory minimum levels based on their original planned capital actions. Goldman Sachs fell below the minimum required post-stress tier 1 risk-based and total risk-based capital ratios; JPMorgan Chase fell below the minimum required post-stress tier 1 leverage ratio; and Morgan Stanley fell below the minimum required post-stress tier 1 risk-based and total risk-based capital ratios.
The net result was that, in the week between the first round of this year's stress test (the results of which were announced March 5) and Wednesday, these three banks had to reduce the size of their proposed dividend increases and/or share buyback programs.
We propose "provable" solutions to Goldman and JP Morgan that can enable them to maintain there proposed share buyback and dividend programs, accomplished through the purchase of Veritas.
If you remember, we've seen this risk adjusted capital horror movie before. In 2009, the same financial analysis team represented in slide 12 of our "What is Veritas?" presentation ran their own stress tests of the US money center banks. I have included the full 47 page Goldman Sachs report as an example of the quality of the work (
Goldman Sachs 2009 Stress Test). The bottom of page 7 of said report reads as follows (for those not familiar with industry parlance, FICC stands for fixed income and currencies - basically interest rates and forex, which are tightly correlated):
Higher revenues from FICC are not expected to be sustainable going forward
Although year-on-year trading and principal revenues are expected to grow 54% in 2009 due to record contribution in 1Q09 with revenues of $5.7 bn versus $4.4 bn loss in 4Q08, trading and principal revenues are expected to decline sharply the coming quarters. Trading and principal revenues are expected to decline of 57% and 12.5% in 2Q09 and 3Q08, respectively over 1Q09. In 1Q09 GS trading and principal revenues showed a considerable strength due to higher contribution from FICC. FICC revenues increased to $6.6 bn due to higher bid-ask spreads and increased volatility although total volumes continued to decline. As spreads revert back to mean and volatility subsides revenues from FICC are expected to fall sharply particularly if volumes continue to decline. In addition, the government's indemnification of AIG's CDS obligations funneled at least $12 to Goldman Sachs despite the fact that we have not been able to track down where it landed in the FICC landscape. It may be very likely that this payment contributed to the FICC revenue boost.
This is want Goldman's FICC revenues looked like going forward...
From the FT.com article this graphic is referenced from:
The latest profits from Goldman Sachs beat Wall Street's forecasts even though they fell from a year earlier.
While fourth-quarter results were buoyed by a strong performance from equity underwriting, including Twitter's November flotation, revenues from its fixed-income, currency and commodities (FICC) business dropped 15 per cent in the quarter to $1.72bn.
It capped a year in which its annual revenues from FICC were the weakest in eight years.
The Federal Reserve is justifiably concerned, for the currency wars that I have been harping on will make things even worse for Goldman and the money center banks - reference:
What does all of this mean? Well, I laid out the road map clearly in "Currency Brokers Fighting Insolvency Are Learning the Value of Our Blockchain Technologies - the Hard Way".
This volatility is poised to hit the banks hard. The following is an excerpt from one of my past articles on the topic of FICC risk in banks.
So, How are Banks Entangled in the Mother of All Carry Trades?
High dependency on Forex and interest rate contracts (amounts reference 2009 timeline)
As of Q2, 2009, Goldman Sachs with interest rate contracts to total assets at 318.x and Forex contracts to total assets at 11.2x has the largest relative exposure. Those of you with substantive Veritas holdings can request an update to the afore-linked analysis. It can be argued that Goldman is trading at an extreme premium from a risk adjusted book value perspective.
As you can see, Goldman Sachs had significantly more exposure that its competitors as a multiple of tangible assets. Not only does the acquisition and ownership of Veritas pose significant value for investors, regulators and counterparties of these banks - it poses significant value for the banks themselves. Revisiting "Currency Brokers Fighting Insolvency Are Learning the Value of Our Blockchain Technologies - the Hard Way", as excerpted:
The recent move on the Swiss franc caused by the Swiss National Bank's unexpected policy reversal of capping the Swiss franc against the euro has resulted in exceptional volatility and extreme lack of liquidity. This has resulted in the majority of clients sustaining losses which has exceeded their account equity. Where a client cannot cover this loss, it is passed on to us. This has forced Alpari (UK) Limited to confirm today, 16/01/15, that it has entered into insolvency.
That follows New Zealand's Excel Markets, which made the same statement earlier, according to the Financial Times.
Brokers can go out of business on big moves like this because they give their clients access to leverage. For example, an account holder might have $1,000 with the broker, but hold positions worth $10,000 in currency markets. That doesn't matter so long as the holder's losses are covered by the initial amount. But on Wednesday, for at least two brokers, that wasn't the case for a lot of those clients.
Our solution for these brokerages is to give the leveraged return of $10k but to have contract unwind when his principal and collateral are exhausted. There are NEVER negative equity situations.
New York-based FXCM, one of the world's biggest foreign exchange brokers, says that it may be in breach of rules on capital requirements and that it is owed $225 million by clients who are now in negative equity. FXCM shares are down by an astonishing 90% ahead of the US open.
IG Group, a publicly listed UK-based broker said yesterday that its losses would not exceed £30 million ($45.7 million)...
http://static3.businessinsider.com/assets/images/back_gradient_20x40.png?1421356676) repeat-x;">Investing.com, Business Insider
As of 11:30 a.m. GMT (6:30 a.m. ET) the franc is currently looking more settled, down 3.9% at 1.016 against the euro.
Veritaseum's UltraCoin (no rebranded as simply "Veritaseum") was designed specifically to avoid solvency issues by:
Forcing all participants to prefund their accounts with full principal and optionally additional collateral (margin);
Forcing all participants lever up (via actual loans) outside of the system, leaving the system sacrosanct;
Enabling implied leverage by gearing the returns upon mutual consent of the parties, or using levered securities as price fees (ex. Proshares Ultra);
and most importantly, replacing all counterparies in the trade with the blockchain, which essentially removes all counterparty and credit risk.
The following is an example posted in a BTC trading chat room of an exotic forex pair, heavily levered, that I recommended to a Romanian trader. Please forgive the informal description in the middle of the graphic, and realize the power of using Veritaseum Digital Contracts to limit risk in the banking system. This set uses an exaggerated 222x leverage (prove a point) yet is significantly safer than anything the banks are currently offering.
Notice how maximum profit and loss are bounded in the smart contract description (the black dialog box on the left side of the graphic above). Participants can ONLY lose or gain the capital amount put at risk. No more, no less.
I'm thoroughly convinced that this is the trading model for, and of, the future and the recent FICC carnage should go a long way in convincing banks, brokerages and regulators to agree with me. Insolvency can be one hell of a motivator.
Even those who aren't facing insolvency issues still have to deal with the structural decline in big bank profitability. I have answers for that as well, right fellas?
Goldman Sachs Posts Lowest Annual Trading Revenue Since 2005
Goldman Sachs Pay Ratio Slips to Second-Lowest Level Since IPO
3 of the 4 largest U.S. banks reported falling profits and revenue below analysts' estimates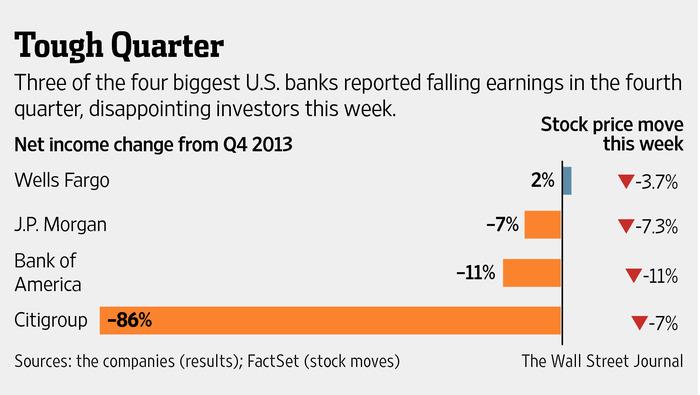 Goldman can purchase 2 million Veritas for less than $1.9 million USD (if done today, Veritas is
undergoing a pre-retail discount sale
for the next week and a half) that will enable it to:
Consult with us to create custom swaps based on our digital system that PROVABLY (this cannot be understated) limit losses to certain mathematically demonstrable limits, thus freeing up significant capital that would normally be tied up in reserves. This means, bigger stock buybacks, and bigger dividends to share holders.
Goldman can also consult with us to integrate their retail, HNW and institutional client systems with our API, thus offering the same capabilities directly to their clients.
Lastly, we can meet with regulators on behalf of Goldman to discuss and explain the material relief in risk adjusted capital requirements such an implementation will entail.
Using the $158 billion fair value from Goldman's 2009 numbers and assuming a mere 50 basis point (1/2 of 1%) risk adjusted capital reserve reduction would yield a $790,000,000 freedom (from a less than $2M investment in intellectual capital) to give back to shareholders. Any Goldman employee (think stock option plan) or shareholder (think, "it's your money!") should consider it imprudent that Goldman NOT load up on Veritas TODAY!
See our Quick Start Guide for details on how to conduct a purchase.
When: From March 14 to April 25, 2015, or until we sell all 21M Veritas, whichever comes first. If you purchase them within the first fifteen days of the sale, you will get a discount off of the retail price. Please see this presentation to learn more. Click here to view as full page presentation.
The tokens will be transferable - free to be bought and sold between customers and purchasers and potentially on crypto-exchanges. A 13% discount will be in effect for those who purchase the tokens within 24 hours of the sale's commencement. Those who miss the first twenty four hour period can still purchase the tokens at a sliding discounted price for up to 14 days.

*Approximate translation into USD as of 3/9/2015
Learn more about Veritaseum, the company here.
Download Veritaseum, the value trading platform here.
The Business Media Sees This as DISRUPTION!
| | |
| --- | --- |
| | "You're going to put JP Morgan out of business! The banks are going to hate you!" |
| | "At least one of the top global money center banks have approached us, and I expect to hear from at least 3 of the top 6!" "MP3 technology combined with innovative business models have cut the music industry profits in half, and they're not coming back! I query all banking execs, 'Do you want to get MP3'd?'" |
| | "You are building a virtual Goldman Sachs on top of Bitcoin!" |
| | "Middleton sounds a bit like an 18th-century pirate striking back against the Empire when he declares that '…what I'm doing right now is a direct threat to fiat merchant banking.'" |
| | "It's the perfect storm of disruption, as it renders trading fees, brokerage fees, and those infamous Wall Street bonuses obsolete. The sheer scale of disruption this technology brings with it makes it something to watch." |
| | "Veritaseum is ripe for a strategic investor to approach us before the end of the calendar year, likely payment processors, global banks, and innovative technology companies such as Google, Facebook, Microsoft or Apple." |